Schedule Your Online Appointment
See Our Doctor in the Comfort of Your Home With an Online Appointment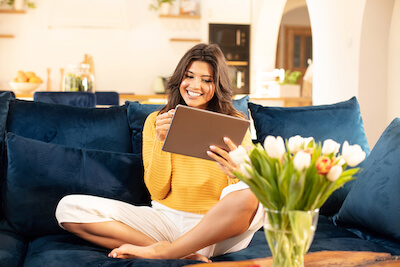 Our team at Tamburrino Family Orthodontics has always been committed to providing quality orthodontic care. Even during these challenging times, it's important to keep up with your orthodontic health. That's why our entire team is happy to add convenient Online Appointments by video on a regular basis.
You can still see Dr. Tamburrino for certain treatments and follow-ups – but now you don't have to leave home or work when you schedule your online appointment. Plus, the process is fast and easy. We do this because we value all our patients and want to ensure your orthodontic health – no matter the circumstance. We look forward to seeing you online!
Get Started With Your Online Appointment – Choose One Now:
**Due to the different nature of TMJ assessment a $800 fee may be collected at this appointment. This appointment includes a full TMJ evaluation, any necessary 3D imaging, a personalized treatment plan as well as adjustment to any current appliances you may be wearing. If further treatment is indicated, this fee will then be deducted from full treatment balance. If you are currently wearing an appliance please bring it with you to your appointment.