TFO Welcomes You!
You can count on our exceptional team for high-quality orthodontic care every time you walk through our doors! The top priority of our orthodontic team is to provide happy, healthy smiles in a warm and friendly environment.
Here are some of the people who will welcome you when you visit our orthodontic office…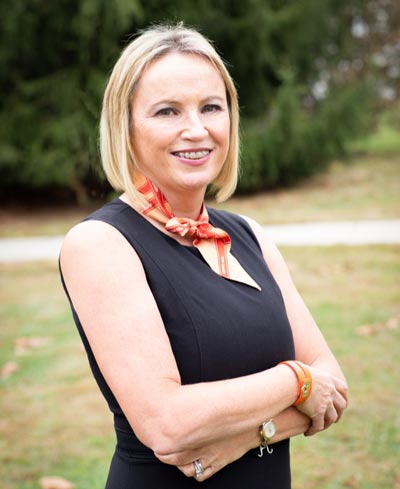 Paula
I grew up on the east coast of Ireland in Arklow, a beautiful beach town. However, I now call Kennett Square home! After moving to Kennett Square with my awesome husband, Cliff and two boys, Conor and Ronan, I started a new career at TFO.
I am a trained horologist and, when I came to the United States, I worked as a watchmaker for Rolex 20 years. (Therefore, in addition to being the smiling face when you come into TFO, I also have a special talent that lets me spot a fake watch in less than 10 seconds…trust me, I can tell!)
My first day at TFO actually was working in our booth at the 2016 Unionville Community Fair, so I got to see firsthand how much the team loves our community. Since I'm a natural at meeting new families and being social, I fit right into the culture and vision for the office. Having not had much exposure to orthodontics before coming to TFO, I've now realized one of my favorite parts of being at the office is watching lives changed as new smiles are created.
In addition to Cliff and the boys, I have one other family member – I'm a mom to our beautiful mini golden doodle, Murphy. Outside of the office I also enjoy traveling with family, working out, eating delicious food, and living life to the fullest!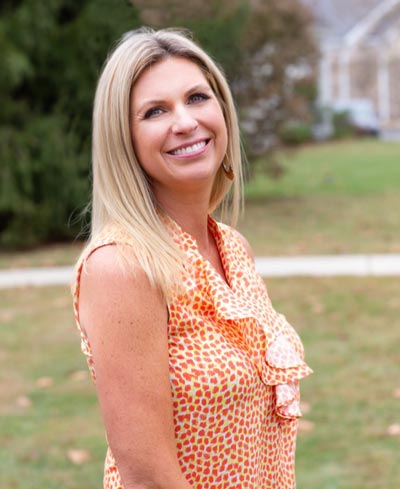 Cailin
Growing up in Kennett Square, I am very passionate about how involved TFO is with community outreach, Smiles Change Lives, and participation in local events. I'm thrilled to be a part of a unique practice that genuinely values each and every person who comes through the door. It's rewarding beyond belief to work for an organization that truly appreciates its team, and treats them with kindness and respect.
I still reside in the Kennett/Unionville area.
Things are never boring at our house. I have a step-daughter and three sons. Shamrock, our mini golden doodle, is the baby of the family and supports me as well as gives patients snuggles every day at TFO.
I enjoy being around others, visiting Longwood Gardens, and spending warmer times at the beach, mountains, or in the backyard around one of our (supposedly legendary) fires with friends and family. I also have a strong passion for learning and for helping others. My Masters in Education and Bachelors in Psychology truly prepared me to provide the best experience for everyone who walks through our doors.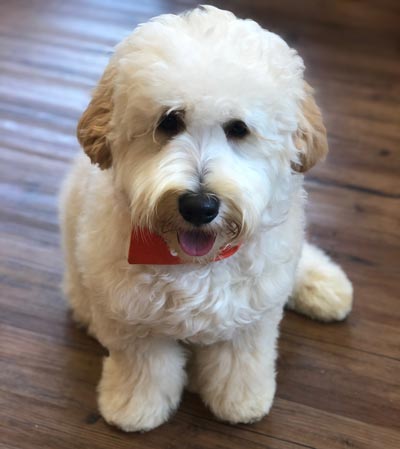 Shamrock
Also known as "Shammy," I joined the TFO team in April when I was only 10 weeks old.
I'm a male mini Goldendoodle, and my main job is giving tons of snuggles to everyone that comes in! I don't shed and am hypo-allergenic, so wearing black is completely safe!
As a therapy dog in training, I can be found sitting on patient's laps during their visit, lounging on the couch with new patients, relaxing in the office, begging for a tummy rub, or playing with my toys.
When I'm not at TFO, I'm at home with my mom, Cailin and her family.
I love spending time outside and chewing on sticks so you may see me scratch at the front door to go get one or I may bring one to you to play with (but I'm not allowed outside without my leash).
I also love treats and you are welcome to give me one, but I have to do something to earn it! I am good at sit, down, stay, and paw but want to learn more. If you can think of any, feel free to teach me!
I can't wait to meet you and have a new friend!
Meet The Team – Schedule Your Free Assessment Today
When you are ready to experience our 5-star orthodontic care, schedule your TFO Smile Assessment by calling 484-730-1921 or by clicking here to use our online scheduling form. Your appointment includes meeting our team, a complete exam and 3D imaging, a personalized treatment plan, and a financial plan – all for FREE!
We proudly offer same-day appointments and treatment starts for your convenience. We look forward to helping you achieve your happiest, healthiest smile!
**Orthodontic consultations for braces or clear aligners are always complimentary for both children and adults.