Your Smile, Your Way
Our experienced orthodontist and highly trained staff at Tamburrino Family Orthodontics are eager to join you on your journey to a healthier and happier smile. To request your appointment with our friendly and knowledgeable team please use the form on this page or call us directly at 484-730-1921.
If you are scheduling a new patient appointment, then you will be able to take advantage of our complimentary TFO Smile Assessment. Your appointment includes:
Meeting our team
Complete exam & 3D imaging
Personalized treatment plan
Financial plan
All for FREE!
Prior to your first visit, you may request a FREE copy of Dr. Tamburrino's book, "I Think My Child Needs Braces"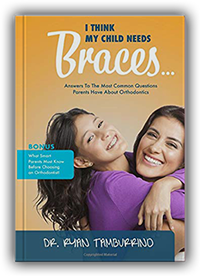 In this book, you will get clear answers to the following questions:
Why should I even see an orthodontist?
How can I tell the difference among orthodontic providers?
What's the difference between an orthodontist and my family dentist?
What will the braces experience be like?
What are the treatment options that I have other than braces?
When is the best time to get started?
How can I make orthodontic care fit into my family's budget?
And much, much more!
If you are interested in additional treatment options such as clear aligners (under brand names such as Invisalign or Spark, etc.), we will also fully educate you on your options and help you to choose the best treatment for your unique needs. We look forward to meeting you and making you part of the Tamburrino Family Orthodontics family!
Fill Out the Form Below to Request Your Appointment at Tamburrino Family Orthodontics Today!
*Please do not submit any Protected Health Information (PHI). This is not a secure or encrypted means of communicating with our office.
As one of the premier family orthodontic practices in Kennett Square & West Chester, PA our doctor and team at Tamburrino Family Orthodontics also provide 5-star orthodontic care to patients from West Grove, Avondale, Chadds Fords, Glen Mills & Newtown Square, PA, and surrounding areas.